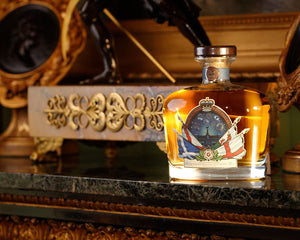 A Celebration of the Coronation of
King Charles III
Distilled at the Macallan Distillery
The Mark Littler Macallan 27 Year Old Coronation Reserve - Distilled At The Macallan Distillery
Evolving Continuity
The label on this special bottling of 27 year old Single Highland Malt Scotch Whisky, distilled at the Macallan Distillery, honours the great Occasion of State which we celebrate today, and it is itself a thing of history.
It was Macallan devotee Mark Littler's idea to honour the talents Macallan had pressed into service for their own advertising and labels in the past by employing them to design and write this one.
An original doodle for a possible Coronation bottling was drawn up almost a decade ago by distinguished designer and artist David Holmes, intrinsic to Macallan publicity design from 1978 to 1994 and designer of prized Macallan labels including, famously, the legendary 1926 60 Year Old Bottling.
When David died in 2018, the sketch was lost. It was his son Toby Holmes, in later years David's alter ego, working with him on many a Macallan project including The Archival (Folio) Series,The Peter Blake Decades, The Diamond Jubilee and The William & Catherine Royal Marriage, who unearthed it and adapted it for its reincarnation here.
It is a fitting way, we feel, to propose a toast to the new-crowned Charles III and to a 1,000 year old Coronation tradition with our own version of evolving continuity.
An Independent Evolution of David Holmes' Royal Designs
The Artwork
The main label on this commemorative bottling is based on a sketch found in David Holmes' studio following his death in 2018 and has been adapted for use on this bottle by David's son Toby Holmes.
The label features many references to British Heraldry.  Some of the elements include the flags of the four nations: St. George's Cross, St. Andrew's Cross (also known as the Saltire), The Red Dragon (Y Ddraig Goch) and St. Patrick's Saltire 
Other references include a Tudor rose (which is a combination of The Red Rose of Lancaster and the White Rose of York), Acorns and oak leaves (which are used in the heraldry and symbolism of the British royal family due to their association with strength, endurance, and longevity) and St Edward's Crown, the current version of which was made in 1661 for the coronation of King Charles II, following the restoration of the monarchy.
The Whisky
The whisky within each premium Glencairn Crystal decanter is an incredible 27 year old single cask, cask strength single malt whisky distilled at the Macallan distillery and independently bottled by Mark Littler LTD for their client. Single cask bottlings of Macallan are incredibly rare and this is a strict limited edition of just 90 bottles.
Bespoke Presentation Case
Each one of the royal blue presentation cases have been hand made in Yorkshire by the luxury packaging consultants Swift and Swift. From the red velvet interior to the embossed gilt details on the cover, each aspect has been carefully designed to make a fitting box for this amazing whisky.
The King Charles Cypher
Owing to the relaxed rules around the coronation of King Charles III this is the first commemorative coronation bottling to have the royal Cypher displayed on it. While this is not an official release it is a bottle that is fit for a king.
VIVAT REX!
David Holmes (1933-2018)
In Macallan's own words, 'Holmes was instrumental in shaping our brand tone of voice on the global stage.'
The collaboration between Macallan and David Holmes began in 1973 when the distillery's owners, Allan and Peter Shiach, enlisted the help of Holmes, an art director, and Salaman, a copywriter, to design a brochure that would attract overseas distributors. The result was "The Remarkable History of The Macallan-Glenlivet," an artist's folio that told the whisky's story through copperplate writing and watercolours. 
Phillips and Mitcalfe approached Holmes and Salaman again in 1979, by which time the creative duo had joined London ad agency Holmes Knight Ritchie. Mitcalfe's brief to the pair was straightforward: "We want a greater voice than our situation merits." Despite having a limited budget of £25,000, Holmes and Salaman took on the challenge and launched a groundbreaking series of over 200 ads for Macallan over the next 16 years.
The Legacy of David Holmes
Alongside his pivotal work in the creation of the Remarkable History of the Macallan Glenlivet and the 200+ adverts for The Times, Holmes was a powerhouse of creative energy responsible for some of the most iconic Macallan bottlings including all of the bottlings below.
Holmes' Wider Legacy
David Holmes was one of the most respected art directors in the London advertising industry. Right up until his death in 2018, Holmes was renowned for his light and humorous work, which captured the attention of many across multiple brands. Holmes's skill extended to more than just advertising; as an illustrator and artist he also exhibited in three Royal Academy Summer Exhibitions.
David Holmes was known for his skill in picking the right artist or photographer for each assignment. His choices were often made regardless of cost, which led him to coin the moniker 'the most expensive art buyer in London'.
Holmes was known for multiple collaborations with Sir Peter Blake who he met early on in his career after Holmes commissioned Blake for a project with London Zoo. The pair became lifelong friends and worked together on several highly successful projects.
In the mid-1970s, Holmes co-founded Holmes Knight Ritchie. They worked with numerous brands from luxury to every day, delivering the pizzazz and carefully curated content for each client; once for a company that made steel tubing and sports equipment he crafted a cupid buying an arrow in an old-fashioned sports shop. 
Outside of advertising, Holmes illustrated books, helped create the instructive children's brand My First Books, and designed two sets of Royal Mail stamps. Holmes was inherently philanthropic and did not charge the charities he created for, who included the Salvation Army and Common Ground. His favourite hotel was reportedly Raffles in Singapore, which he visited often and also created designs and posters for the iconic residence. 
David Holmes' legacy is iconic and stretches from some of the most expensive whisky in the world to the Glastonbury festival. His work from the 1970s to the present day has always been current, somewhat eccentric and impeccably delivered.
Tasting Notes
Provided by Phil Dwyer
Colour
Blonde
Nose
Lemon meringue, marzipan, malty biscuits, malting floor. Soft caramel and toffee. A gentle saltiness to counter all of the sweetness, fresh pine wood, and pineapple.
Palate
More creaminess and fresh lemon zest. The barley notes are wonderful and quite a contrast from the regular Macallan style. A biscuit note runs through the whole development, accompanied by subtle sweet notes of brown sugar, coconut, banana, and pineapple.
Finish
More fresh barley and malty creaminess.
Summary
A very subtle and easy drinking Macallan that is the epitome of what ex-American oak Macallan is all about; loads of sweet, creaminess with a long but gentle finish.
Mark Littler Ltd provide a bespoke whisky brokerage and investment service to help you buy and sell whisky bottles and casks.
As one of the few independent brokers in the UK, we are uniquely positioned to provide expert market knowledge, analysis and advice to help you buy and sell whisky. We can offer advice at all levels, from private individuals and funds to larger funds and solicitors.
One of our specialities is collections. In 2022 we helped a customer consign The Timeless Whisky Collection to auction with Sotheby's USA, which was the most valuable whisky collection ever to be brought to auction in the USA. In 2019 we also sold the well known vertical of Macallan 18 year old which made news worldwide. If you are looking to sell or build a collection then Mark Littler can help.
If you are interested in keeping up to date with the whisky market then be sure to check out their YouTube channel. 
We also provide professional help across the UK with all aspects of luxury goods and antiques including: Selling at auction, brokering private sales, downsizing and probate valuations.
Each bottle is individually photographed in our warehouse before being listed online to ensure that the bottle you see online is the EXACT bottle you receive.
No stock photography is used for our products.
In instances where there are multiple versions of the same product each one will be photographed and listed seperately.
If you require additional images before purchasing please contact whisky@marklittler.com
Mark Littler LTD are brokers and as such many bottles will not be applicable for VAT.
Where Mark Littler LTD are acting as an agent for a client and selling a bottle on their behalf this will be noted in the product description.  These bottles are not subject to VAT.
Bottles that are being sold under the margin scheme will be noted in the product description.  These bottles are not subject to VAT.
If a bottle is subject to VAT then this will be noted in the product description.  If you are a buyer from outside of the UK then the VAT can be removed from the sales price. 
Please contact us for an invoice to settle at whisky@marklittler.com
Shipping Within The UK
Free shipping is available for all orders within the United Kingdom.
Shipping Worldwide
We can ship worldwide. Please see below for specific destinations and prices, or if your destination is not listed then please contact us at whisky@marklitter.com for a custom shipping price.
EUROPE
Switzerland (CH) – £35
Cyprus (CY) – £35
Germany (DE) – £30
Finland (FI) – £35
Guernsey (GG) – £25
Ireland (IE) – £25
Luxembourg (LU) – £25
Monaco (MC) – £30
Malta (MT) – £35
Netherlands (NL) – £25
Norway (NO) – £40
ASIA & PACIFIC
Hong Kong (HK) – £50
Macau (MO) – £50
Singapore (SG) – £50
Taiwan (TW) – £50
Japan (JP) – £50
Malaysia (MY) – £50
Republic of Korea (South Korea) (KR) – £50
Australia (AU) – £40
New Zealand (NZ) – £50
AMERICAS
USA – We can ship to the following states . Prices start at £45:
Alaska (anchorage only), California, Connecticut, Delaware, District of Columbia, Florida, Georgia, Idaho, Illinois, Louisiana, Maine, Maryland, Massachusetts, Nebraska, New Jersey, New Mexico, New York, North Carolina, Oregon, Pennsylvania, Rhode Island, South Carolina, Texas, Vermont, Virginia, Washington, Wyoming.
How Long Does Shipping Take?
Once an offer has been accepted and payment received your whisky will shipped the same day if in office hours (Monday – Friday 8.30am to 5.oopm).
If payment is received out of office hours then the bottle(s) will be shipped the next working day.
Orders shipped to the UK will be sent 24 hour delivery. Delivery times worldwide will vary depending on the shipping destination. Please contact us for specific timings for your required shipping address.
Returns Policy
Returns must be made within 14 days of receiving your item.
If you intend to return an item please contact us immediately by emailing whisky@marklittler.com and state:
– Why you are returning the item.
– Where you are based.
– What packaging/shipping/insurance you will have in place or if you would like us to arrange this (see below for costs).
Items must be returned in the same condition in which they were received.
If you choose to arrange to return an item yourself you must ensure your packaging is suitable. Ideally this should be equal to or in excess of the standard of packaging used in the original shipping. You are responsible for insurance of the bottle when shipping it back to us, proof of postage must be obtained.
Fully insured, UK return shipping and suitable packaging can be arranged for £15. For international returns please contact us for a quote.
Once the item is received the item will be fully inspected by our experts and any discrepancies will result in the item being returned to you (at your cost) and the refund being denied.
Once the item's condition has been verified, refunds will be sent via BACS to the account from which we received original payment. Other accounts cannot be credited.
Watch the latest from our YouTube Channel
With new videos every week on investing, collecting and whisky news.